Would you like to request a refund for RevivePress? If you've found our plugin isn't quite what your site needs, we can help you manage your account appropriately.
In this article, we'll explain who's eligible for a refund for RevivePress, and how to request one.
Determining if You're Eligible for a Refund
You are fully protected by our 100% Money Back Guarantee. If during the next 7 days you experience an issue that makes the plugin unusable and we are unable to resolve it, we'll happily consider offering a full refund of your money. It means once you create a refund request within the valid refund period due to a technical issue with this plugin that makes the system unusable, you can get a refund right away if we are unable to solve the particular issue.
This policy does not cover refunds for the following cases:
Missing feature/s
3rd party conflict
Discovering a better alternative
You as a Customer changed your mind;
Once this period is up, you can't get a refund, but you can still cancel your subscription at any time from your RevivePress Account.
Requesting a Refund
If you'd like to receive a refund within this 7-day window, please head over to your RevivePress Account. Then go to Support Section and select RevivePress a Product.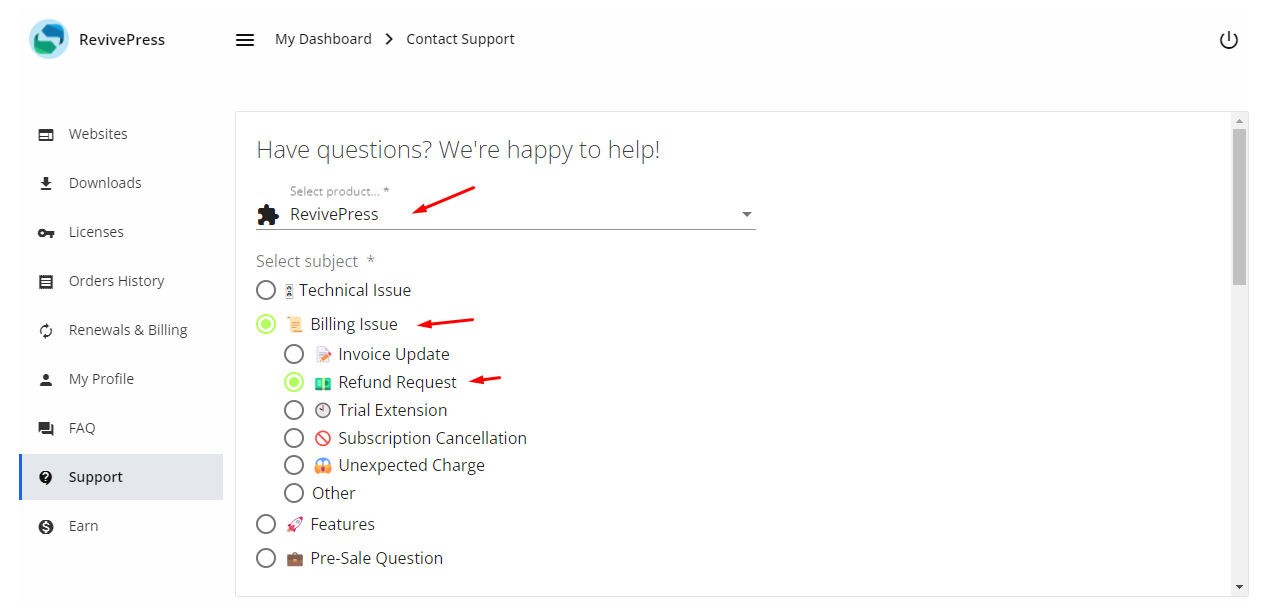 After that, please select Subject Biling Issue » Refund Request, then scroll below. Then select your website and write your issue in short.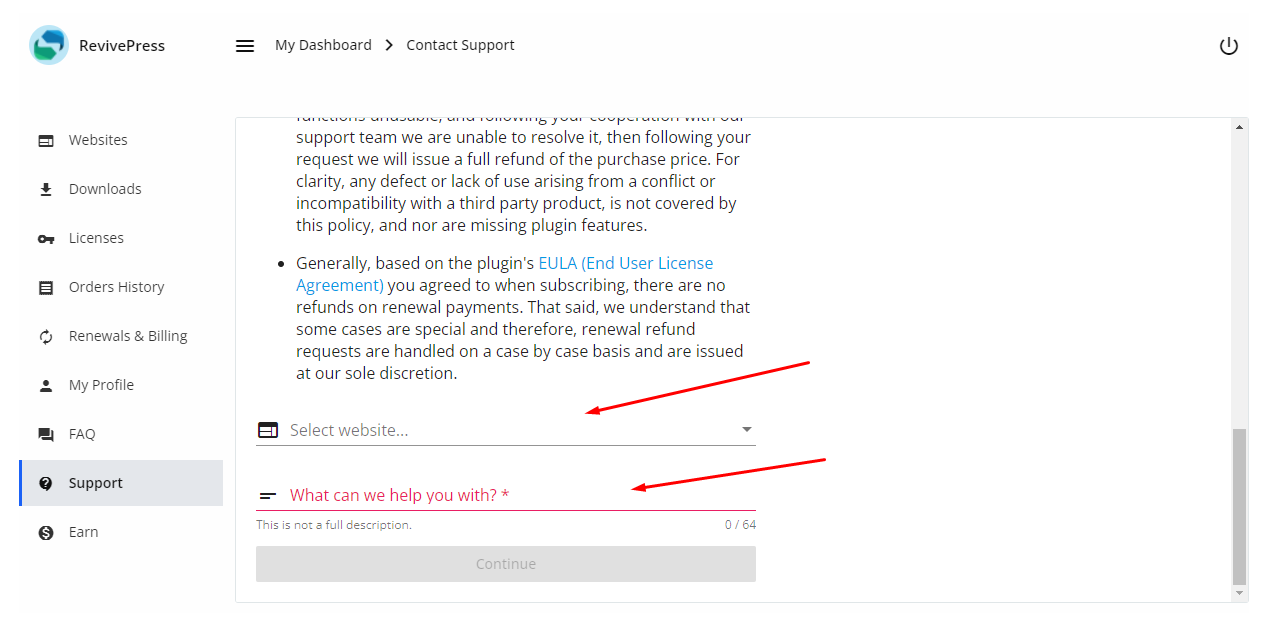 Once this is all filled out, you can go ahead by clicking the Continue button. Now, please fill in all the details of your issues in the description field and submit the form by clicking the Submit button.
Note: Of course, we don't want to see you go. If our support team can help in any way, or if there are specific features you'd like to see, please let us know in your message or you can request new features from Support » Features » Feature Request on the same tab.
Our team will respond as soon as possible to keep you updated on the status of your refund. That's it! That's all you need to do in order to request a refund for RevivePress.
A few small points to have in mind:
We will process your refund as soon as we are able to. In some cases, we might ask for the opportunity to resolve the issue for you.
Refunds may only be issued within 7 days of the purchase date. After 7 days, no refunds can be processed.
We reserve the right to deny refund requests if we deem it necessary.
If you have any other questions about your subscription, please get in touch with our support team, we'll be happy to help!
Did not find a solution? We are here to help you succeed. Open a support ticket.